Electrical Star Tree (Glossy White)
#2804
Thank your customers for a year of business and wish them a prosperous new year with our Electrical Star Tree Christmas Card. Printed on glossy card stock, the 5" x 7" Electrical Star Tree Christmas Card features a festive design with gold stars, a gold plug, and a gold lightning bolt in the shape of a triangular holiday tree. As with all of our cards, we offer many free upgrades as well as customizable options that allow you to add your company name and message and choose your own ink colors and fonts. Prefer to see it in person before you place your order? Request a free sample now!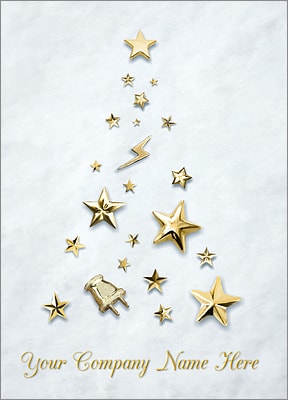 | Quantity | | Price Per Card |
| --- | --- | --- |
Your Company Name
We can print your company name on the front of this card for free.
Please enter the text to appear in the box below.
We will send a PDF proof by email with your company name after your order is placed.
Your company name will not appear on this website.